General George C. Kenney pioneered aerial warfare strategy and tactics in the Pacific theater

by Sam McGowan


Every major war produces leaders whose influence is long felt by succeeding military generations. General George Patton was such a man, General Douglas MacArthur another. One airman of World War II whose influence is still felt more than 50 years later was General George Churchill Kenney, Allied air commander in the Southwest Pacific.

George Kenney was a New Englander, though he was born in Nova Scotia on August 6, 1889, while his family was on vacation there. The future airman grew up in Brookline, Mass., then entered the Massachusetts Institute of Technology. After three years at MIT, Kenney left to take a job as an instrument technician with Quebec Saguenay Railroad. When World War I broke out, the 5-foot-6-inch Kenney left his career as a civil engineer and contractor to enlist as a private in the Signal Corps. He was accepted for training as a pilot and learned to fly under the tutelage of the legendary aviator Bert Acosta.

Kenney remained in the Army after the war, serving in a number of capacities, often in roles that enabled him to put his engineering talents to good use. His penchant for improvement--he was, for example, the first man to install machine guns in the wings of an airplane--earned him a reputation as an innovator.

Kenney was also a critic, as he proved in 1940 when he went to France as an observer. When he came back, he recommended that the United States throw its entire military aviation program into the ashcan and start over.

In March 1942, Major General Kenney took command of the Fourth Air Force, the air arm of the Fourth Army, which was based at the Presidio in San Francisco. He later began his biography with a Fourth Army story that has been often repeated. He was sitting in his office when word came that a brash young Lockheed P-38 Lightning fighter pilot had been observed performing loop the loops around the Golden Gate Bridge and buzzing Market Street so low that he was seen waving to secretaries on the second floor of buildings. Kenney called that bad boy into his office and gave him a mild chewing out, then sent him to Oakland to do some work for a woman who reported the low-flying fighter had blown her clothes off the line.

No sooner had the young lieutenant left Kenney's office than Kenney's direct line from General Henry H. Arnold's office began blinking. "Hap" Arnold wanted Kenney to come to Washington to be briefed for a new job. When he arrived in the capital, Kenney was told that he was going to the Pacific to work for a man who had a reputation for cutting no slack for his air commanders--General Douglas MacArthur. Kenney would command the Allied Air Forces in the Southwest Pacific and the Fifth Air Force.

Before departing for the Pacific, Kenney hung around Washington for three days, trying to gather as much data as he could. He also got Arnold to assign 50 P-38s with 50 pilots from the Fourth Air Force to his new command in the Pacific. And Kenney made sure that Richard Ira Bong, the aggressive young lieutenant who had looped the Golden Gate, would be one of those pilots. Today, Bong is remembered as the leading U.S. fighter ace of WWII.

Another of Kenney's requests was for 3,000 parafrag bombs to be sent to Australia, where he thought they might come in handy against the Japanese. While en route to Australia with his aide, Major William Benn, in July 1942, the two discussed low-altitude bombing. During a layover at Nandi in the Fijis, Kenney and Benn requisitioned a Martin B-26 Marauder bomber and went out to test a theory--that a bomb could be made to skip along the water like a stone. Their theory proved to be correct and the technique of skip bombing was born.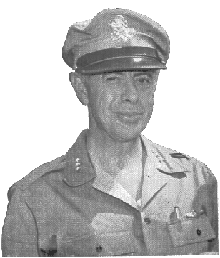 In the Pacific, Kenney found himself in a forgotten theater of war. Europe had priority for new aircraft and personnel. MacArthur's forces were expected to fight a holding action to protect Australia from the advancing Japanese. Kenney quickly organized his new command so that every available asset could be put to good use. He went through his command with a fine-tooth comb, weeding out officers who were not "operators" and sending them home to be replaced by men who were. He reassigned Benn to work as a Boeing B-17 Flying Fortress squadron commander, and Benn began teaching his pilots the new skip-bombing techniques he and Kenney had worked out during the trip over from the States. While visiting the newly arrived 3rd Attack Group, General Kenney discovered a former Navy enlisted pilot by the name of Paul I. Gunn--"Pappy" to the younger men around him.

Kenney had Pappy Gunn assigned to him and put him to work installing racks for parafrag bombs on Douglas A-20 Havoc bombers. When the task was far enough along that other men could do the work, Gunn was put in charge of making good airplanes out of more than 100 wrecks that had been designated for salvage. To build up his air force, Kenney also requested airplanes that he knew were in disfavor in Europe--including Consolidated B-24 Liberators, North American B-25 Mitchell bombers, A-20s and P-38s.

One of Kenney's greatest contributions was the use of airlift to support a ground offensive. Shortly after arriving in Australia, he convinced his boss to let him use his small transport command to move an infantry regiment of the American 32nd Division to New Guinea from Australia. On September 15, 1942, an ad hoc troop carrier force airlifted 230 GIs to Port Moresby. The following month, Kenney was promoted to lieutenant general.

While the B-25 was proving successful as a skip bomber in attacks upon Japanese shipping, Kenney reasoned that the technique really needed a heavily armed "commerce destroyer" equipped with a firepower package that could devastate the enemy's defenses during a high-speed, low-level attack. He put Pappy Gunn to work packing as many .50-caliber machine guns as possible into the nose of a B-25. Gunn modified an entire squadron of 12 bombers as "commerce destroyers." The 12 planes were placed under the command of Major Ed Larner in late February 1943, just in time for the Battle of the Bismarck Sea.

On March 1, 1943, a reconnaissance B-24 spotted a convoy of eight Japanese transports escorted by six destroyers 150 miles west of the Japanese base at Rabaul. The next morning the convoy was again located and attacked by B-24s and B-17s. One transport was sunk and another damaged. Over the next 24 hours, the convoy was under constant attack. The commerce destroyers got 17 direct hits, while 12 skip-bombing A-20s put another 11 bombs into the sides of the Japanese ships. Within 20 minutes every single transport was sunk or sinking, along with one destroyer sunk and three others badly damaged. The Battle of the Bismarck Sea was the first in a long series of successes for Kenney's "kids," as he called the young pilots and crewmen. MacArthur duly noted these successes and dubbed Kenney "the Buccaneer."

In mid-1943, Kenney convinced MacArthur to allow him to construct a forward airfield at Marilinan, on the north slopes of the Owen Stanley Mountains. Every single piece of construction equipment and material had to be airlifted across the Owen Stanleys. An existing strip was used by the Lockheed C-47 crews, who brought in men and materials to construct the new base at Tsili-Tsili, some four miles away. Initially, jeeps and trailers were flown in aboard C-47s for the ground end of the transportation link, but Kenney's "kids" came up with the idea of sawing in half several 2½-ton trucks, then airlifting the halves to Marilinan. After the idea proved feasible, every deuce-and-a-half in the theater was modified for airlift.

From the time he arrived in Australia, Kenney had envisioned a very bold plan, an airborne assault on the Japanese airfield at Nadzab. In mid-August 1943 the 503rd Parachute Regiment arrived in New Guinea. On September 5, while Kenney and MacArthur observed from overhead in B-17s, Nadzab was attacked by six squadrons of modified B-25 strafers, which poured the power of their eight guns on the field, then dropped 60 parafrag bombs each. After six A-20s laid a smoke screen, 96 C-47s dropped 1,700 paratroopers, who quickly seized the field. MacArthur reportedly jumped up and down like a kid.

With New Guinea finally secure, the Allied forces turned their attention northward, eventually to the Philippines after a Navy plan to bypass the islands in favor of a landing on Formosa was rejected. Kenney accompanied MacArthur into Leyte after first overseeing the destruction of the Japanese-held oil refineries at Balikpapan, Borneo. From Leyte it was on to Lingayen Gulf, then Manila. Next was Okinawa, and finally, the end of the war. Kenney accompanied MacArthur to Japan and stood on the deck of the battleship Missouri to watch the Japanese surrender.

Kenney went on to command the new Strategic Air Command as well as the Air Force's Air University at Maxwell Field, Ala. After his retirement, he hosted a documentary television series about military air power. George Kenney died August 9, 1977, at Bay Harbor Islands, Fla.


Article reprinted with permission of the author and History Net