B-24 Wallpaper for your computer desktop. Click the thumbnails for the full size, then right-click to save.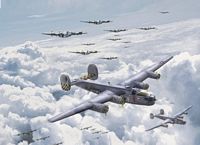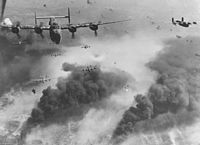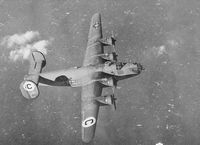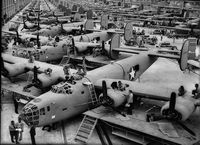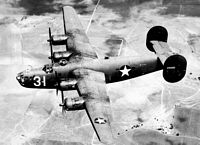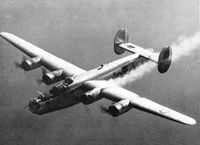 B-24 videos. Wonderful!


How to fly the B-24 Liberator: straight from the B-24 Flight Manual (See also "How to Fly the B-24D Liberator" videos from Zeno's Warbird Video Drive-In -- offsite. Will open a new browser window)

Two cartoons from the B-24 Flight Manual: "Diving Ain't Healthy" & "Low Banks Ain't Healthy"

Gorgeous color picture of a Liberator's Instrument Panel. A shot taken from a lower vantage point and one from the Co-Pilot side of the plane, behind the seats.

Which is best: the -24 or the -17? A poem by Jim Jones answers this question (Warning Fort lovers!)

The Collings Foundation's "All American" pictures taken by Richard Cherkauer.

And some of the same plane painted as 'The Dragon and His Tail", taken by H. K. "Andy" Anderson who flew around 3 missions in the original "Dragon". Mr. Anderson writes that he's confident that the "Dragon's" original artist was Sarkis Bartigian who also painted "Mabel's Labels", "Michigan" and "Cocktail Hour". This nose artist was described by Steve Birdsall, in his book "The Log of the Liberators", as "the greatet combat artist of the war".

And here are two pix taken by Shad Shaddox of the Ole Dragon and His Tail:


Photos of The Collings Foundation's Dragon and His Tail, sent by Frank Drab and Ed Gammill.

The Dragon's waist guns (with Frank Drab)

Photo of the Dragon and His Tail taken by Ken Brown (who actually flew the original Dragon and His Tail during the War) and his grandson, Curtis Brown

A photo of the Dragon showing Ted Romanowski, 403rd Armorer/Gunner and the lovely Swede, Caroline Lindgren.

Frank Drab's lovely wife, Peg, on the port side of the B-24

From Max Axelson via Jim Cherkauer: a picture of Lackland AFB's Liberator

Painting of "Missin' You", 65th SQ, by Alan Eaton of England

At the 2001 Reunion, the Group presented Jim Cherkauer with a model of a B-24. Mr. Cherkauer "reassembled it as carefully as possible and removed all of the decals and painting and repainted it as a 65th B-24 - 44-40373 J-160 PETTY GAL." Click here to see a picture of the model as it now hangs in his computer room.

Where you can see B-24 Liberators now.